On Thursday, July 5, 2018, I left my home in Springfield, Missouri and drove to Wichita, Kansas just a hair after 2:00 a.m. I downed a cup of espresso and left town in an empty hatchback and a full playlist.
After over four hours of driving, I pulled up to an incredible 1930's brutalist style home that was over 3,000 square feet. This home was the accredited Art of Dress Design Institute taught by Letizia Fuhr. Ms. Fuhr taught dress design in this huge home from the 1960's-1970's and the lady had incredible fashion sense and a three foot tall beehive.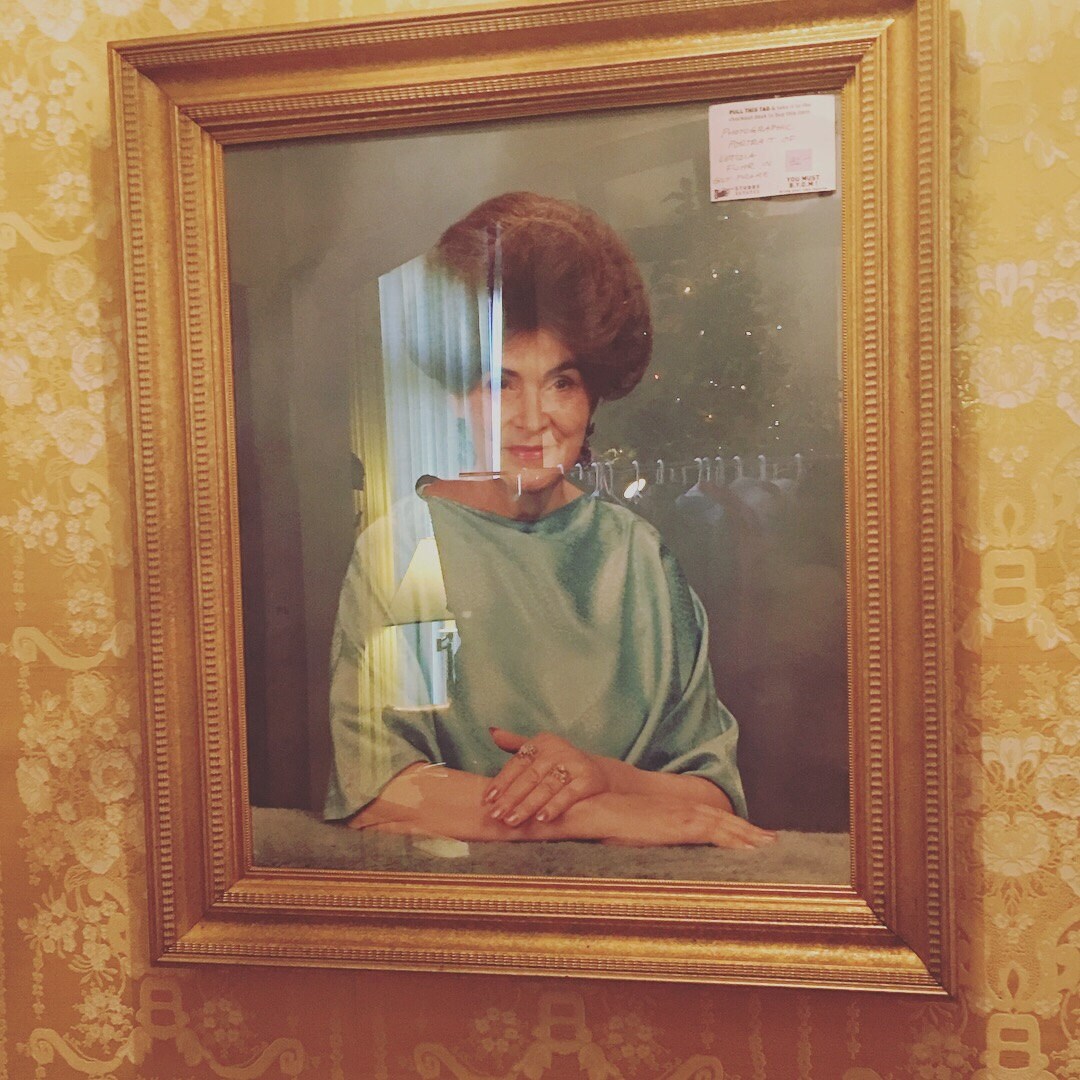 I was second in line behind a local man who was there for the mid century furniture. We talked quietly as the line behind began to fill up with eager customers such as myself. At 9:02 a.m. the doors opened. I turned to corner to reveal the large main living room in the home. The living room had a tall ceiling with original exposed beams and brutalist chandelier. The flooring was a bold citrus orange plush shag carpet that I could feel around the edges of my sandals. The living room had all of its original mid century furniture, including a pair of matching orange and green paint splatter couches that matched the room perfectly.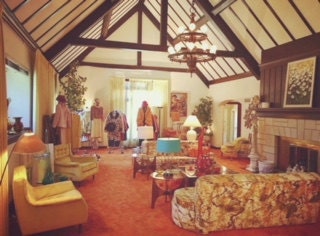 At the edges of the room were four large racks of Ms. Fuhr's original clothing design and some personal garments. I was the first to the racks and I couldn't get my hands on the beautiful vintage clothing pieces fast enough. I took note of a few of her early 1960's designs had a "Letizia Original" label sewn into the garment. I only found two or three with labels, the rest unfortunately did not.  After two minutes my arms were already heaping with a pile of clothes. An employee of the sale unloaded my arms and I moved on to the next rooms.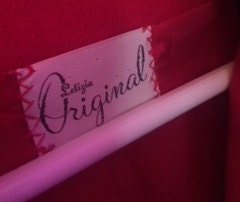 I took a wrong term and ended up in a smaller living room with yellow and green shag carpet and a citrus yellow couch with matching lamps that would have fit in nicely in Elvis' home. 
After realizing my mistake I knew Ms. Fuhr's basement had to be near. I took another turn and found shag carpet laced stairs going down. As I walked down the stairs I stepped into Ms. Fuhr's basement, which was actually where she taught dress design. The main room was full of vintage industrial sewing machines, bolts of fabric and a mint condition 1970's mannequin with a space in her teeth, cone shaped breasts and was decked out in a measuring tape around her waist and a burgundy leotard and tights. I quickly grabbed the sale tag off the mannequin and stepped into the next room.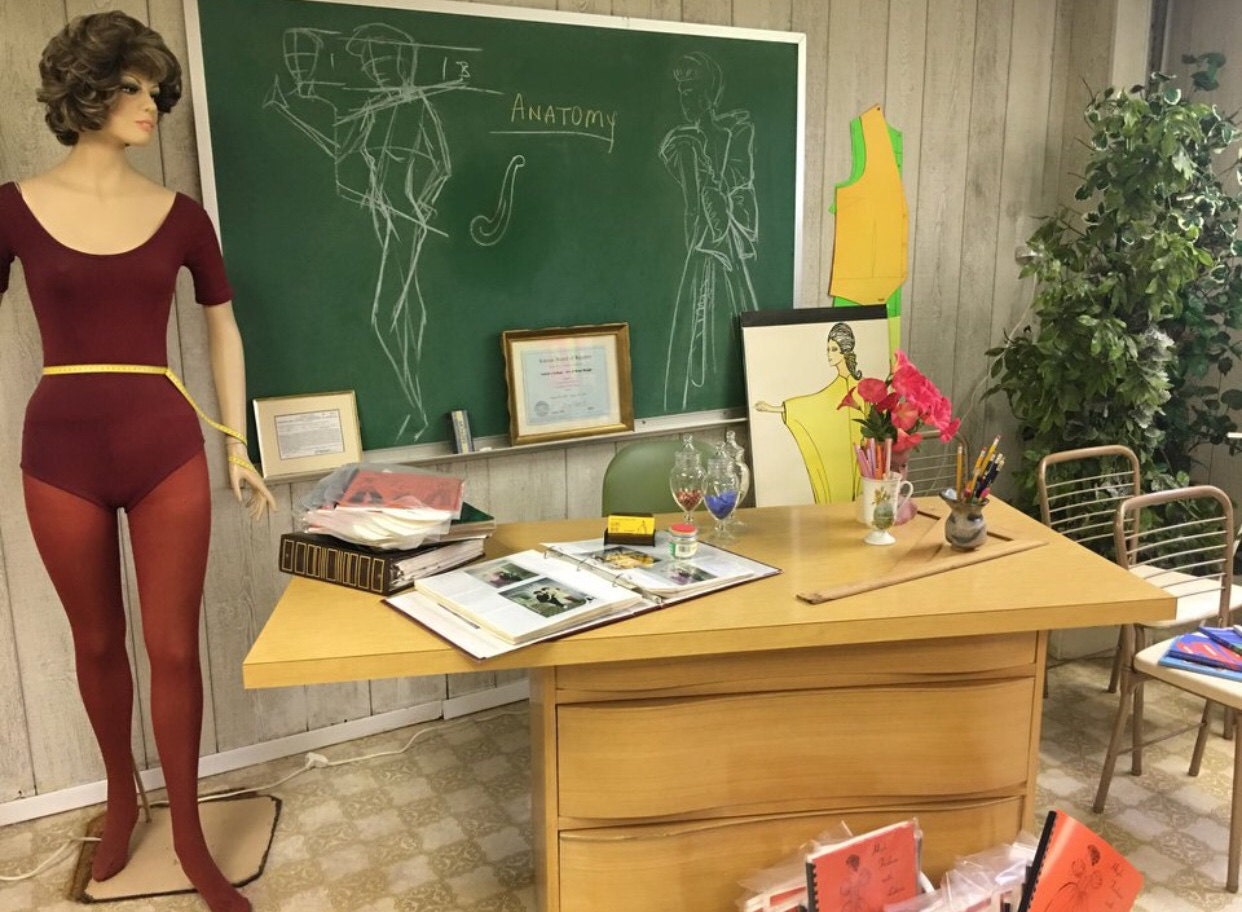 The next room was full of dress forms, mannequins and vintage clothing. The walls of the space were covered in many bold colored, flamboyant fashion sketches. I grabbed several 1960's skirts, pants and blouses and headed back upstairs.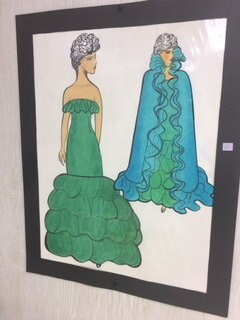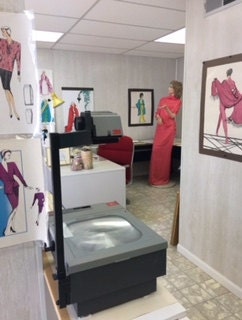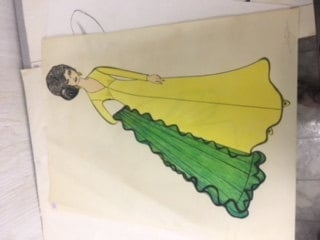 I knew there was atleast one more room full of clothing and I was determined to get as much from this incredible time capsule as I could. I made my way to a final pink bedroom and grabbed some fabulous 1960's outfits. I headed back towards the line and decided to take one final tour of the home before checking out.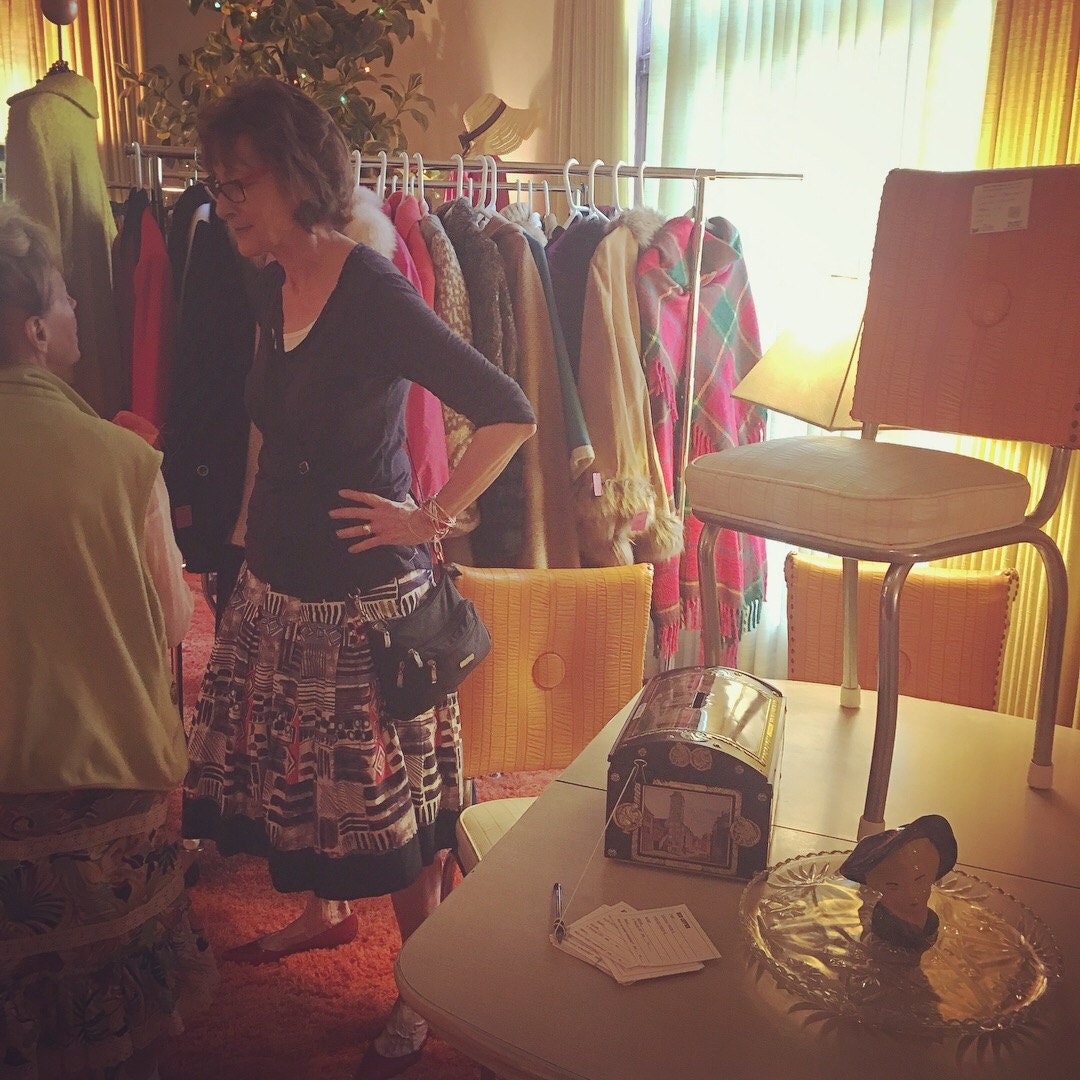 As I made my way back towards the living quarters, I walked into a sunken in dining room in a bold green color. I walked out of the kitchen into a completely mirrored hallway and found myself at the end of the check out line.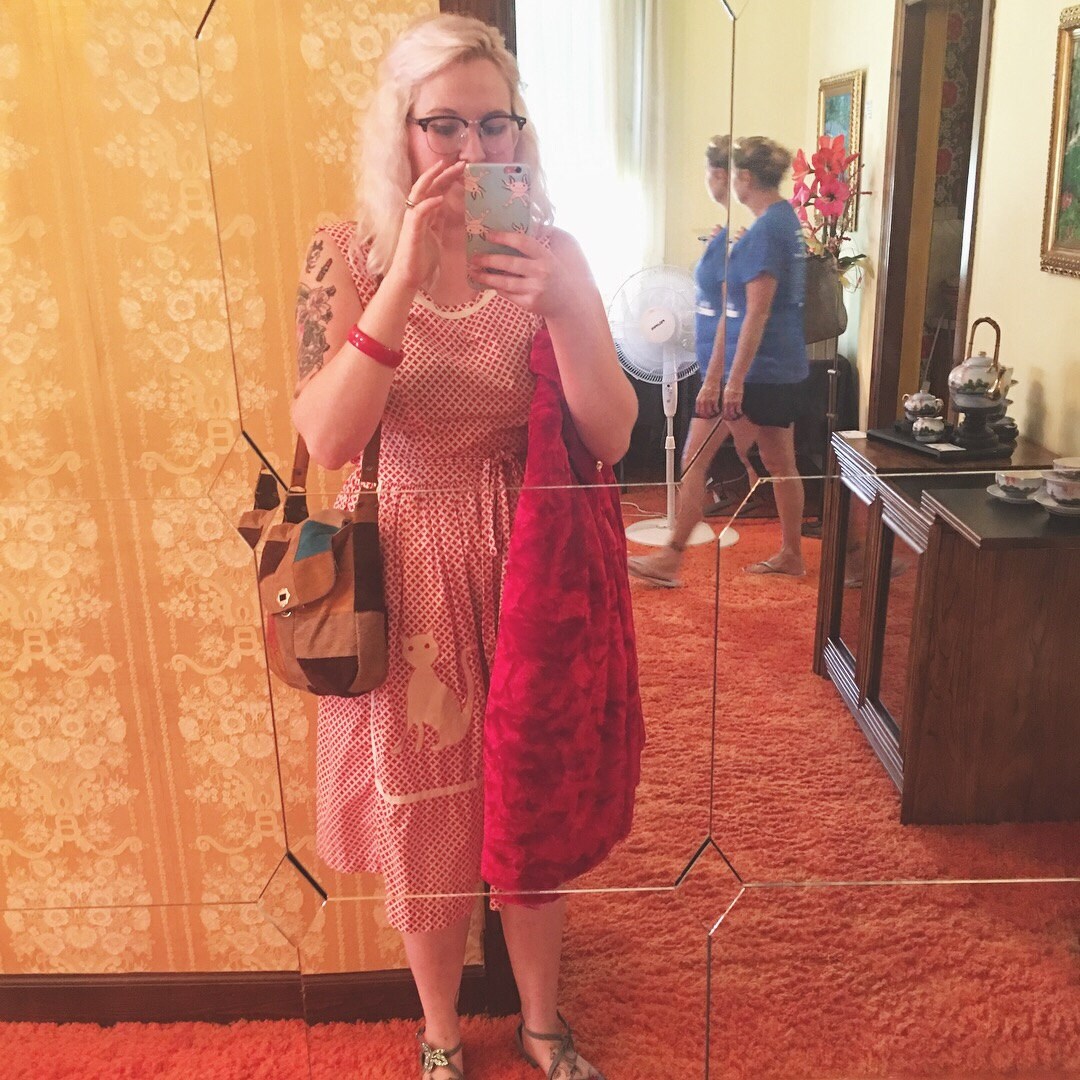 The house was packed full of other shoppers so I found myself edging along the wall. As my fingers braced the wall behind me, I noticed the elegant yellow wallpaper behind me was velvet flocked and as I looked up I noticed she had even had the popcorn ceiling decked out in glitter.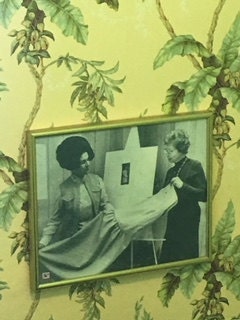 After about 15 minutes I found myself getting ready to check out. As I looked back at my final look of this incredible 1960's time capsule, I noticed an over 6 foot tall fashion sketch of Ms. Letizia Fuhr herself greeting guests at the entrance of the hallway (had it not already sold, I would have tried to find a way to bring the picture back home with me).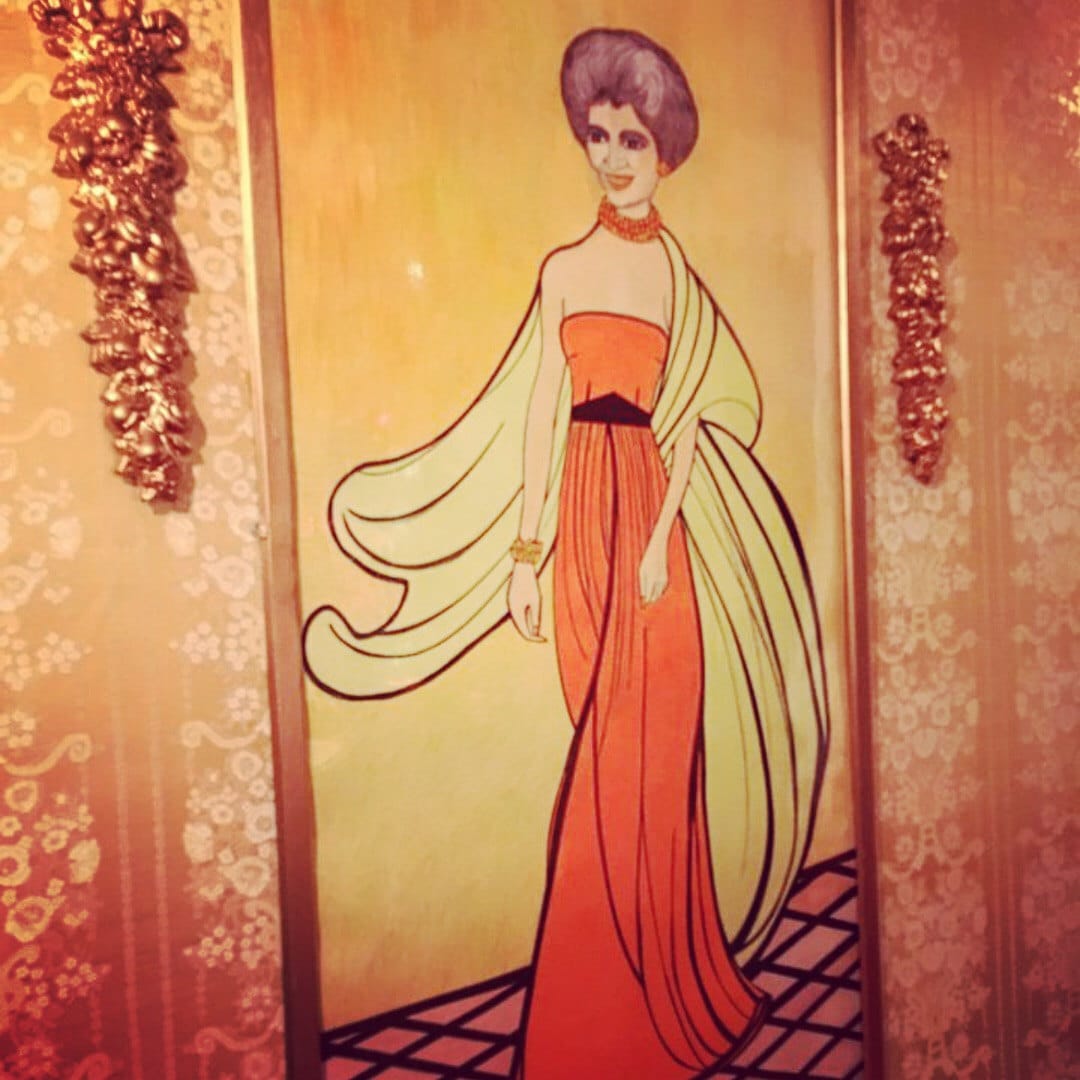 I loaded up my car with the incredible vintage clothing pieces I had purchased and put my new 1970's mannequin riding shotgun home with me.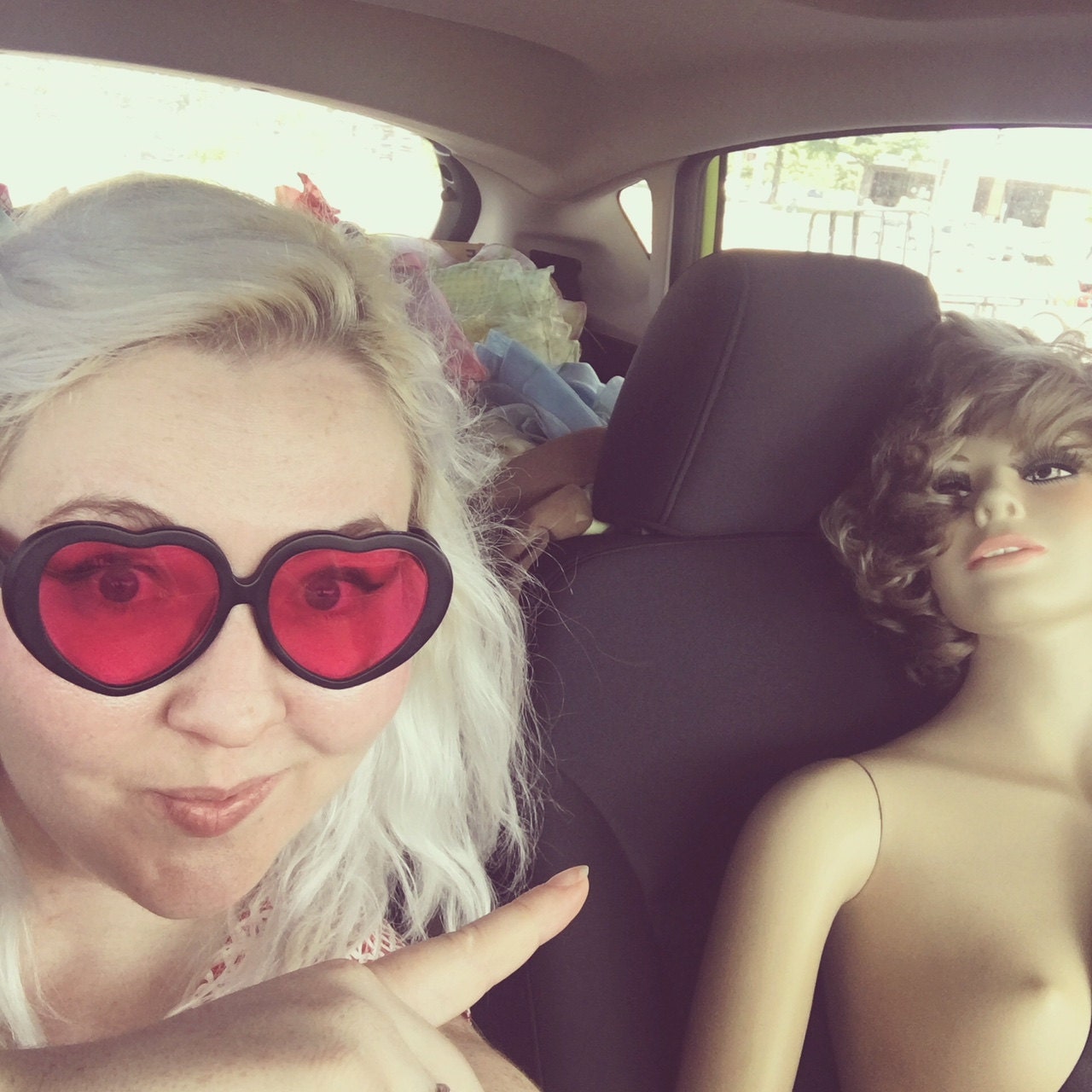 It's not very often us vintage collectors and sellers get to know the true history and origin and I feel so thankful to have been able to go and participate in this sale. I cannot wait to begin sharing these vintage beauties with all of my vintage loving clients!